At the annual International Summer Meeting on Electricity, Industrial application that was held this year in Acapulco, Mexico 7-13 July, GlobeCore's oil vacuum regeneration system UVR was presented at the booth of Apfelbaum Inc.
Our young team consisting of Olga Vorkun, lead export departement manager, and Evgeniy Svirid, lead engineer, have demonstrated the process of used oil treatment and focused attention of visitors on transformer oil regeneration technologies. Evgeniy has regenerated samples and the last exceeded expectations of the audience. In the mean time, average regeneration output from used oil with 2-4 % of solid contaminants and water was demonstrated at 75-85 % (depending on mode of regeneration). After that test, some company was interested to make an experiment with their own used oil.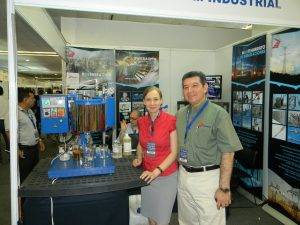 During the presentation of our company on conference, Olga has focused at the following issues:
– This sorbent can automatically be reactivated multiple times retaining its original performance; – Possibility to reuse the sorbent for 2 – 3 years or up to 300 reactivation Cycles;
Significant extension of transformer lifetime due to improvement of oil chemistry and better protection of windings;

Regeneration of oil by Fuller's earth, which allows to reduce acidity, increase dielectric strength and extending oil lifetime to 30 years and beyond without degradation of it's function.
Apfelbaum Industrial Inc. has been working with GlobeCore for one year. This year has brought a positive trend. As says Octavio Manzano, Apfelbaum Industrial's President, products that are being improved are the result of new additions to the team. Mr. Manzano has enjoyed working with young professionals, especially with those who are so interested in what they do.