Equipment for the production of lubricating emulsions, lubricants, process fluids to cool in the heat treatment
Lubricants and coolants are an essential component in most of metal work processes, such as lathe work, milling, drilling, polishing etc. The main purpose of these liquids is to reduce temperature and wear of the cutting tools. Using emulsions for metal works allows to increase productivity, protecting the parts, equipment and  tools from corrosion; it also eliminates chips and abrasive dust around the workplace.
Lubricants and coolants are divided into three main groups:
Pure mineral oils, enhanced with special grease additives, sulfur, phosphorus and chlorine organic compounds, as well as antifoaming, anticorrosion and antioxidation additives.
Water emulsions of mineral oils. This type of coolant is made on the spot by adding water to emulsols (40-80% mineral oil, 20-60% emulsifiers with additives).
and the third type – water solutions of surfactant concentrate with low-molecular polymers.
Concentration of the emulsion or solution depends exclusively on the conditions under which it is used. As a rule, it is a 2-10% solution.
Besides, coolants must adhere to hygienic, environmental and other requirements, possess a number of anti-corrosion, cleaning, anti-microbial and other qualities.
The main requirements to the operational qualities of coolants during heat treatment depending on their type and use:
physical and chemical properties must be in compliance with product specifications;
the substances must be stable for transportation and storage, including low temperature stability;
cleaning qualities are required;
satisfactory antimicrobial stability and long life time of water emulsions and solution of coolants are required.
GlobeCore manufactures equipment for production of coolants and lubricants: the CLM colloid mill. The unit has been tested in the laboratory and is certified for quality and compliance. The product, thanks to our mixing device, remains stable for at least 180 days.
So what is a CLM colloid mill? It is a specially designed equipment for production of highly stable colloid solutions, superfine suspensions, mixes and emulsions. The mill is based on wet grinding principle, which means that the production occurs in the gap between the teeth of the rotor and the stator.
The unit may be operated independently or retrofitted into an existing production line. Operating pressure of the colloid mill in a production line varies from 1.5 to 2.5 bar, depending on product components.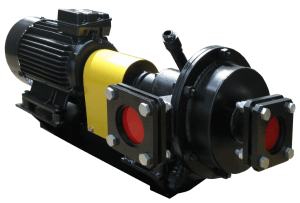 CLM – 18 colloid mill for hot mastics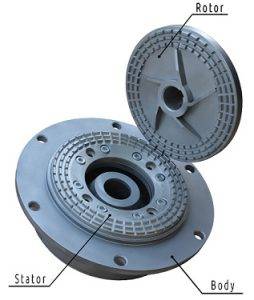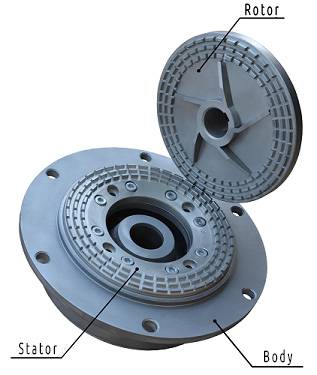 Grinding zone of the emulsification pump+mill
№
Parameter
CLM – 4.1
 1
***Capacity rated (on the water), m3/hour, up to.
4
 2
Operating pressure, bar.
0,5
 3
Rotation speed, RPM.
3000
 4
**Max heat carrier temperature, °С.
160
 5
**Minimum coolant temperature, °С.
-4
 6
Dispersion, microns.
<50
 7
Nominal pressure/suction bore diameter, mm.
32/65
 8
Drive power, kW.
5,5
 9
*Dimensions, mm:

– length

– width

– height

960

310

400

 10
Weight, kg.
125
Note.
* – Dimensions are driven assembly.
** – If necessary, the product can be either heated or cooled to a desired temperature.
*** – Depending on the physical and chemical characteristics of the product capacity may vary.
Your product manager at GlobeCore: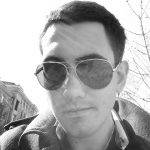 Sergey Mezhievskiy A responsible and dedicated person. He will accompany you through all stages from placing the order to shipment of the product. Experience in industrial sales and in finding solutions for real issues in the field allows him to fully understand you, select the appropriate equipment model and ensure timely delivery.
Skype: mezhievskiy
Advantages of GlobeCore colloid mills:
Professional engineering advice
The mill ensures stability of the emulsion
Modern design and world class quality
Brief production time
Competitive price
Efficiency and blending speed several times those of a turbine mixer
Savings on vessels as compared to a turbine mixer: the colloid mill installs into the production line and does not require additional vessels
Heating or cooling jacket optional
Advanced production equipment and highly qualified staff (over 200) allows to fulfill orders within minimum time
The gap in the mill's grinding zone can be adjusted without removing the mill from the production line
Grinding to 1 micron
Components from world renown manufacturers
Temperature range from -30 С° to 180 С°
Optional soundproofing

 
Client testimonies: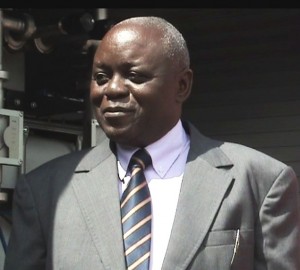 Mr. Shekanabo, the United Republic of Tanzania:
"I can only say good things about GlobeCore mills. After seeing the production facility, I had no doubts that this is a serious and reliable company with professional staff, and the system works like a clock. Of course, the production itself seems complicated, but the equipment is powerful and rugged."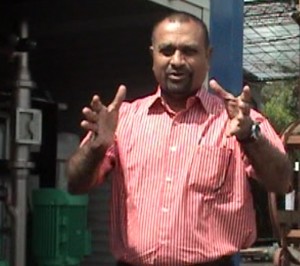 Mr. Patel, the United Republic of Tanzania:
"I want to wish GlobeCore success in the future and I think we will maintain our cooperation for many more years. May you have as many successful products and new developments as possible."