There are two ways to prepare mastics: hot and cold. Hot mastic is made on site several hours before use. The process requires careful control and safety measures. The most important qualities of hot roofing mastic are heat resistance, flexibility and adhesiveness.
It is the main water proof sealant for water proofing of all kinds. Mastics are also used for control joints. Hot mastics is a mix of oil bitumens or bitumen polymer blends with mineral filling. Bitumen roofing mastic is a black viscous substance, made of roofing bitumen with fibrous, combined or dust filling and an additive.
Bitumen mastic can protect any surface from moisture, mould or fungi. It does not bulge under influence of water vapor and creates a solid seamless waterproof cover. This material does not crack and is quite strong.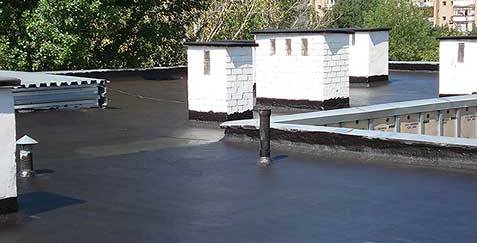 This material also serves for waterproofing of underground objects, such as sewer pipes, gas and oil lines, water pipes. It can be used for treatment of welding seams in metal structures and undersides of vehicles, contact lines between metal and concrete and brick in buildings, horizontal surfaces in pools and lavatories.
 Production process is rather hazardous due to the temperature of the materials. Depending on the type of bitumen, the temperature may vary from 110oC to 160oC, which is enough to cause burns or fires.
A good replacement is the bitumen based liquid rubber. It offers the same reliability and strength, while simplifying the production and application process.
Liquid rubber is a bi-component bitumen-polymer emulsion; all words in the name are equally important: 'bi-component', 'bitumen-polymer' and 'emulsion'. In classical sense, it is an emulsion of bitumen polymers, water and bitumen, with bitumen being the main substance.
Production of liquid rubber requires special equipment to make emulsion stable to stratification, such stability being the main indication of the quality of the emulsion.
We offer a specifically developed mixing device: GlobeCore™ CLM colloid mill.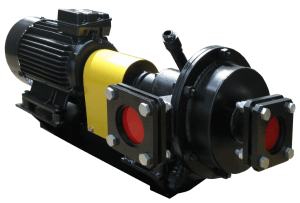 CLM – 18 colloid mill for hot mastics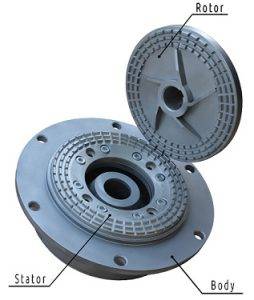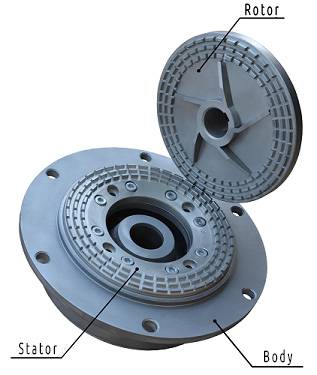 Grinding zone of the emulsification pump+mill
| | | |
| --- | --- | --- |
| № | Parameter | CLM – 4.1 |
|  1 | ***Capacity rated (on the water), m3/hour, up to. | 4 |
|  2 | Operating pressure, bar. | 0,5 |
|  3 | Rotation speed, RPM. | 3000 |
|  4 | **Max heat carrier temperature, °С. | 160 |
|  5 | **Minimum coolant temperature, °С. | -4 |
|  6 | Dispersion, microns. | <50 |
|  7 | Nominal pressure/suction bore diameter, mm. | 32/65 |
|  8 | Drive power, kW. | 5,5 |
|  9 | *Dimensions, mm: – length – width – height | 960 310 400 |
|  10 | Weight, kg. | 125 |
Note.
* – Dimensions are driven assembly. ** – If necessary, the product can be either heated or cooled to a desired temperature. *** – Depending on the physical and chemical characteristics of the product capacity may vary.
Advantages of GlobeCore colloid mills:
Professional engineering advice
The mill ensures stability of the emulsion
Modern design and world class quality
Brief production time
Competitive price
Efficiency and blending speed several times those of a turbine mixer
Savings on vessels as compared to a turbine mixer: the colloid mill installs into the production line and does not require additional vessels
Heating or cooling jacket optional
Advanced production equipment and highly qualified staff (over 200) allows to fulfill orders within minimum time
The gap in the mill's grinding zone can be adjusted without removing the mill from the production line
Grinding to 1 micron
Components from world renown manufacturers
Temperature range from -30 С° to 180 С°
Optional soundproofing
Client testimonies:
Mr. Shekanabo, the United Republic of Tanzania:

"I can only say good things about GlobeCore mills. After seeing the production facility, I had no doubts that this is a serious and reliable company with professional staff, and the system works like a clock. Of course, the production itself seems complicated, but the equipment is powerful and rugged."

Mr. Patel, the United Republic of Tanzania:

"I want to wish GlobeCore success in the future and I think we will maintain our cooperation for many more years. May you have as many successful products and new developments as possible."
Your product manager at GlobeCore: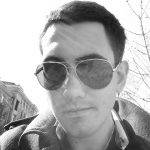 Sergey Mezhievskiy A responsible and dedicated person. He will accompany you through all stages from placing the order to shipment of the product. Experience in industrial sales and in finding solutions for real issues in the field allows him to fully understand you, select the appropriate equipment model and ensure timely delivery.
Skype: mezhievskiy