Bitumen emulsions for waterproofing
Beside road top, bitumen solutions are widely used in construction industry. This is most evident in production of insulating and waterproofing mixes. For safe use of civil and industrial buildings, waterproofing is usually required to prevent water from entering the construction and protect the materials from its destructive influence.
There are many types of waterproofing, differing in material and the object. Bitumen is neither the last not the least component of waterproofing materials, which are widely used, foremost, in painted waterproofing. Without a doubt, bitumen solutions, emulsions and mastics are presently the most efficient waterproofing materials and are intensively used in construction.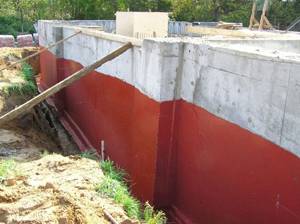 A bitumen solution is prepared in the process of combining bitumen with water, various additives and surfactants. To manufacture a waterproofing material, a reinforcing filler is used for maximum efficiency of the product.
However, the once popular and highly sought for organic solutions and hot mastics are not as important today as they used to be, giving way to water based bituminous waterproofing materials. The main reason for the market change are environmental concerns, as well as increased demand for safer and more efficient products. Simply put, bitumen solutions are highly carcinogenic and are quite hazardous to health.
Many countries already use environmentally friendly new materials, while some of the European nations have banned the use of bitumen solutions and hot mastics. At the same time, environmentally friendly construction is only just developing in Eastern Europe and is a highly lucrative trend in industrial market development. The result is the growing demand on bitumen emulsions, which ensure safe application and reduce chemical pollution of the environment, for waterproofing. Moreover, water bitumen waterproofing emulsions are inflammable, while the quality of the material is no worse than that of bitumen mastics based on organic solvents and hot bitumen mastics. As far as costs are concerned, the emulsions are significantly less expensive than the cost of various alternatives. Besides, bitumen emulsions allow safe waterproofing not only underground, but also indoors.