Bitumen emulsion production unit UVB-1 (laboratory)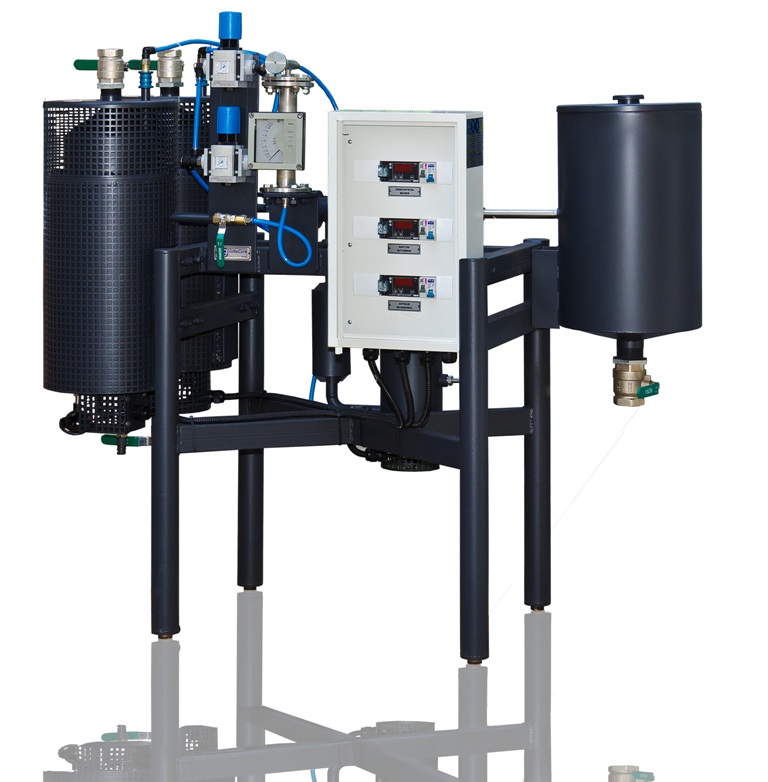 GlobeCore is proud to present you bitumen emulsion production units UVB-1, developed and produced by the company.
Currently the "cold" processes for production of bituminous construction materials are becoming universally accepted. Such materials include asphalt-concrete mixes, roofing, waterproofing, VODIPREN® COMPOUND liquid rubber for seamless waterproofing, etc.
The use of water-bitumen emulsions is especially promising in the field of road construction and repairs, waterproofing of roofs, vessels, basements, as well as treatment of metal surfaces. Water-bitumen emulsions, unlike hot bitumen binding, save up to 30% bitumen, up to 40% gravel and reduce power consumption by 1.5.
Emulsions facilitate high degree of adhesion between the lower and the new layers of coating, increased durability of the coating and extend construction period from early spring to late fall (as long as ambient temperature is above 5ºС). The coating can be applied to wet surfaces. These coatings are environmentally friendly and are easy to transport and store.
The units are made for different throughput capacities, so as to optimize production for the required volume of product.
Unit description
Water bitumen unit UVB-1 is designed for production of anionic or cationic emulsions, which are used in road construction for:
tack coating of old road top before application of asphalt concrete layer;

production of cold asphalt concrete mixes;

surface treatment of road top;

thin protective layers;

patching of roads.
The unit can be used by facilities producing asphalt concrete mixes.
The unit may be operated both indoors and outdoors under adequate cover.
12 months warranty from commissioning. Worldwide delivery.
SPECIFICATIONS
of laboratory bitumen equipment.
#

PARAMETER

VALUE

1.

Maximum capacity (including preparation time), m3/hour

600

2

Water consumption, l / h: min

max

6

30

3

Air consumption, l / h: min

max

0

100

4

Bitume pressure, max, bar

16

5

Water pressure, max, bar

6

6

Compressed air pressure (the mixer) max, bar

6

7

Compressed air pressure (control)

min, bar

max, bar

4

6,3

8

Bitume temperature, 0С  min

                                          max

140

160

9

Water temperature, 0С      min

                                          max

20

60

10

Oil temperature (heating jacket) , 0С  min

                                                         max

120

180

11

Power, kW,

Bitume pump

Oil pump

Heating

Control

Total

3

2,2

5,1

0,1

10,4

12

Voltage power circuits with 60 H,

440

13

Container volume of bitumen, л

20

14

Container volume of water, л

20

15

The volume of filled thermal oil, л

10…15

16

Overall dimensions, mm,

Length

Width

height

1250

970

1490

17

Weight, kg, max

400