COLLOID MILL FOR CHEMICAL LIQUIDS
High degree of homogenization: 5 micron.
Complete with a Heating and Cooling jacket
Optional soundproof system
COMPETITIVE PRICE
EQUIPPED WITH A HEATING JACKET
ROTOR-STATOR GAP ADJUSTMENT
COLLOID MILL:
The CLM Colloid mill is designed specifically for the production of highly stable colloidal solutions, fine suspensions, mixtures and emulsions. It uses the principle of "wet" grinding due to the conical rotor and stator that have larger width entries and narrower exits. Additionally, the complex geometric surface of the rotor creates greater turbulence which breaks the particles apart.
Under centrifugal force and high relative speed between the rotating rotor and the fixed stator, liquids and semi-liquids become emulsified, finely dispersed and homogeneous mixtures.
PRINCIPLES OF GRINDING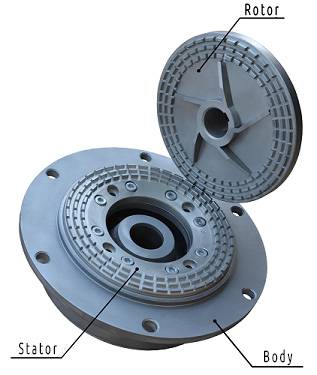 Сolloid mill design
The basic principle of operation of the colloid mill is wet grinding. This type of grinding is based on mixing mutually insoluble solid and liquid materials in the mill.
The products are fed into the mill, where the process of homogenization and dispersion begins with the solid material uniformly distributed in the liquid material, forming emulsified homogeneous mass, stable for all practical purposes. The fineness of grinding in the"GlobeCore" colloid mill is achieved due to the design of rotating and stationary cutting parts and can reach particle size 1-5 micron. Also, the impeller section of the rotor creates cavitation effect, which accelerates the dispersion process..
Provides a stable colloidal mixture resistant to breakdown
Rotor stator gap adjustment
COLLOID MILL FOR CHEMICAL LIQUIDS
A colloid mill for liquids consists of a rotor and a stator. The gap width is 0.2 - 0.6 mm.
Rotation speed is fast enough - a few thousand revolutions per minute in large mills, and more than 10,000 RPM in small laboratory mills. In practice, this speed depends on the rotor diameter and on the peripheral speed. It is the circumferential rotor speed and the gap size that determine the particle size of crushed material.
Droplet size can be changed by widening the gap or reducing the circumferential stator speed. In addition, the mill is equipped with a simple mixer at the inlet to prevent bitumen droplets from penetrating the gap. Also, some models have grooves on the surface of the rotor to improve grinding.
Production capacity of the colloid mills depends on their type. Laboratory models process several hundred kilograms per hour, while industrial types offer as much as 200 tons per hour processing capability.
A popular mill for liquids is the CLM-4 unit. It achieves highly stable colloidal solutions, extremely thin suspensions and emulsions.
It can simultaneously disperse and homogenize materials.
PAINT PRODUCTION WITH COLLOID MILLS
Emulsion homogeneity and stability is very important in paint manufacturing. If the emulsion components have different weights, they separate rapidly. This causes the paint brush strokes go from even and uniform to be more like sandpaper, with the heavy mixtures settled. To produce the paints that do not spoil the painted surface and are pleasing to the eye, we recommend to use GlobeCore colloid mills for wet grinding.
GlobeCore equipment can be either standard or customized. The standard models can be purchased directly from the warehouse. The customised models are designed and manufactured to order in 45 work days.
Commissioning usually takes a week. Generally, it takes a few days to get the authorization and to supply communications (220 V or 380 V power and piping) and set workplace equipment. By the time everything is organized, the GlobeCore unit is delivered anywhere in the world. Commissioning is arranged individually, and can also be completed in a few days.
For the production of paints and varnishes GlobeCore has developed a special technology of grinding and dispersion. The mill successfully produces of a wide range of materials without replacing the existing equipment. Also, it produces small batches to individual requirements of the customer.

COLLOID MILL SPECIFICATIONS
№


PARAMETER

CLM-22.2

CLM-18.1

CLM-4.1

1
***Capacity, m³/hour, up to.
22
18
4
2
Operating pressure, bar.
0,5
0,5
0,5
3
Rotation speed, RPM.
3 000
3 000
3 000
4
**Heater temperature, no more than °C
160
160
160
5
**Coolant temperature, no less than °C
-4
-4
-4
6
Dispersion, micron
<50
<50
<50
7
Nominal diameter inlet/outlet,mm
80/120
80/80
32/65
8
Power of drive motor kW.
55
11
5,5
9
*Dimensions, mm

- length

– width

– height/td>

1440

430

650

1000

400

460

960

310

400

10
Weight, kg
490
135
125

Note:
* — Dimensions are shown in assembled form, with the drive included.
** — if necessary, the product can be either heated or cooled to the necessary temperature.
*** — The mill capacity changes depending on the physical and chemical characteristics of the product.

MODERN COLLOID MILLS FROM GLOBECORE
GlobeCore is a machine-building factory that develops and manufactures high-quality equipment for regeneration, restoration and preparation of oils, preparation of bitumen emulsions and various polymer-modified industrial fluids. GlobeCore equipment earned a reputation of reliability and efficiency and is in steady demand in more than seventy countries of the world. Annually, the company produces hundreds of units for emulsification, dispersion, wet grinding and mixing of solids and liquids. These units are colloid mills and homogenizers for wet grinding. Before they are supplied to the customer, each unit passes an obligatory factory test to guarantee the quality of the prepared colloidal solutions, emulsions and suspensions. Therefore, GlobeCore engineers are constantly at work improving this small, but important machine.
With the help of modern software, GlobeCore designers calculate colloid mill (homogenizer) hydraulics and the patterns for the working surfaces of the rotor and the stator. Every detail of the colloid mill corresponds exactly to the blueprints.

BAGROV IGOR, RUSSIA:
"n 2012, we tested and consequently purchased the GlobeCore colloid mills CLM-18 and CLM-22. We are very satisfied with the work of both units.
We produce tons of liquid rubber. Accordingly, the units are of great help.
Prior to that, we used a foreign mill; it outlived itself.
GlobeCore is the right choice for us.

MR PATEL, UNITED REPUBLIC OF TANZANIA:
I wish GlobeCore a successful future and I hope that we will work together for many years. Wishing GlobeCore many possible you successful projects and new developments

MR NSHEKANABO, UNITED REPUBLIC OF TANZANIA:
I only have positive emotions about GlobeCore.
After seeing the production, I understood that this is a serious and reliable company, with professionals. It works like clockwork. Of course, the production itself seems a complicated system, but the equipment that comes out of it is powerful and everlasting.
обновлено:
July 28, 2017
автором: